Posted by Ghenwa Elkhoury
On June 2, 2022
#LifeInsurance, Insurance Tips
The opposite of life is death, but the opposite of life insurance isn't  funeral insurance, funeral insurance is actually a type of life insurance that serves a specific purpose. Read on to check similarities and differences between the two types of insurance and make your future decisions informed ones.
Death is often unpleasant to think about, but it is important. While you're still alive, it's essential to plan for future possibilities:  when you are not around to protect those you leave behind. 
When considering planning, life insurance and burial insurance are topics that may pop up, let's discuss their differences and similarities with quick facts.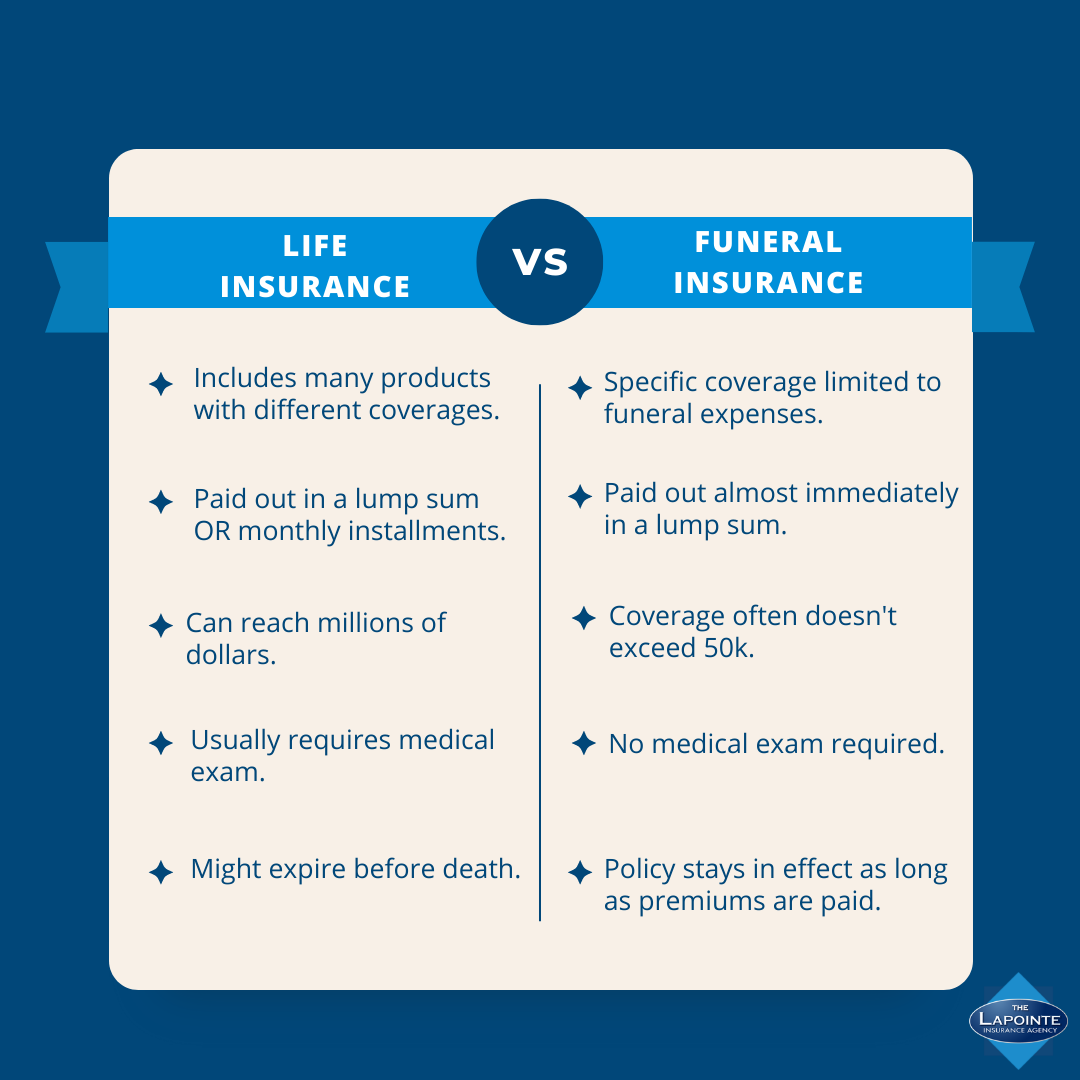 Life Insurance: Pay Attention to Purpose, and Don't Forget Duration
Life insurance comes in many different products, which means it can be hard to quickly define.
Let's start with its purpose:  to ensure that when you die, your beneficiaries will be taken care of financially. This can come in many forms of protection: mortgage protection, which ensures that your mortgage will be paid; income protection, which distributes a percentage of your income to your beneficiary, even after you die.
The second thing to pay attention to when choosing life insurance is duration. Life insurance coverage comes in many different durations. For example, term life insurance gives you coverage for a specific time period (or "term") and will only pay your beneficiary if the insured dies during that specific time period. In contrast, permanent life insurance offers life-long protection. As long as you continue to pay your premium and don't take out withdrawals or loans on the policy, your insurance company will pay the full amount of the policy.
Depending on what life insurance you opt for, you may be required to conduct a health and life screening. When you apply for a life insurance policy, you're most likely going to be asked some personal questions–don't take it personally! That's just the insurance company  gathering information to assess a risk and properly  determine the premium to charge you if they are willing to insure your life for life insurance. 
Some questions you may be asked include: 
Height

Weight

Medical history

Family health history

Driving record

Foreign travel records

Lifestyle 

Smoking habits

Income

Occupation

Hobbies
Burial Insurance: But why do I need it? 
Burial insurance, aka funeral insurance, final expense insurance, etc.,  is considered a subset of life insurance. Don't worry when you see a difference in title, they all serve the same purpose: covering funeral related costs. It's important to note that burial insurance usually caps at about 50K, which can help fund funeral services, pay for a casket or urn, and future grave maintenance.
Some people consider burial insurance after their life insurance policies expire. For example, if you outlive a 30 year term life policy that included funeral insurance, you may consider just getting a separate funeral insurance policy, which may be cheaper than getting another term life policy. Funeral insurance policies often only expire once the policy holder passes, or once payment stops. 
Even the most cost effective after-life ceremonies can be expensive. For example, a cremation can cost anywhere from $700 to several thousands of dollars. So, considering burial insurance might be an important decision in the financial future of your loved ones.
There are so many details that can be covered when it comes to life and burial insurance, this is just a quick read. If you're interested in other topics concerning life insurance, be sure to leave us a comment below and we'll happily dedicate our blog to answering your questions. You can also contact us directly at info@lapointeins.com.