Posted by Ghenwa Elkhoury
On May 27, 2022
Insurance Tips
Everyone knows summer's around the corner when Memorial Day weekend plans come up. We want to make sure your Memorial Day festivities are enjoyed safely; read on to see everything that can go wrong ahead of time so you can plan to make it right!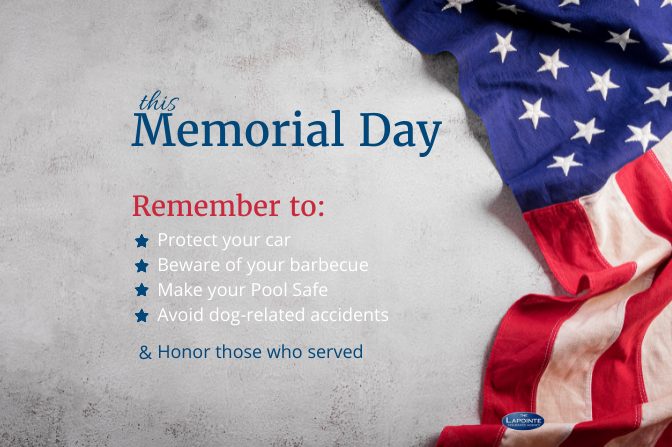 Protect your Car
Picture this: the weather hits the 80's, a drink sounds so good, and a drive sounds even better. 
If you're planning to travel this upcoming weekend, be sure to know that you're going to hit heavy traffic. Roads are the busiest during Memorial Day weekend and driver's aren't always sober. 
As experts, we want our readers to be protected in case accidents occur (been there, done that). For extra extra protection, follow these four easy tips: 
Avoid alcohol consumption prior to driving. 

Buckle up–that means everyone!

Plan roadside assistance ahead of time. 

Make sure you have the right car insurance. 
Memorial Day dangers don't end here. Thousands of social gatherings are planned to be held at home. If you're hosting, now is a good time to ask yourself how to keep your family and guests safe on the big day.
Beware of your Barbecue
You love to grill, who doesn't? Freshly grilled hot dogs, steaks, and burgers are the highlight of any outdoor gathering. But it's a good idea to be aware of what could possibly go wrong with open fire around a large party of people. Your barbecue might be your best friend this summer, but we want what's in your best interests. 
 Based on data gathered by the National Fire Protection Association, fire departments in the US respond to over 10,000 home fire emergencies annually, with peak months between May and August (Mckelvey 2022). As grilling season begins, we receive several home insurance claims due to misuse of outdoor cooking. So many emergencies include smoke damage to home interiors, melted sides, and very dangerous home fires that can result in millions of dollars worth of property damage or even death. 
Pool Party Weekend Goes Wrong
Uncle Joe's got the pool ready and EVERYONE is coming over to celebrate the long weekend. But first– safety!
If you own a pool, be sure to take those small extra steps that protect everyone at your party, especially children. Read our blog on pool safety to find tips on how to prevent pool-related accidents. 
When it comes to pools, both children and adults are at risk of drowning. If you know how to swim, don't assume your guests can. To prevent potential problems, read (and act on) this safety list: 
Have life jackets ready

Avoid alcohol consumption around the pool

Always supervise children

Learn CPR

Use covers when the pool isn't being used
Your Dog Might be a Party Pooper
You can't wrap your head around the thought of your friendly furry friend biting someone, but it can happen. Insurance claims due to dog bites happen all the time, and a memorial day barbecue is the perfect setting to avoid one. 
Dogs bite for several reasons. Your dog might be afraid of, nervous, happy, or even just playing with your guests. 
Pet insurance is your best friend this weekend, along with these minor tips: 
When in public, keep your furry friend on a leash. 

Ask the dog owner before petting their dog. 

Don't approach any unfamiliar dogs. 

Supervise children when they're playing with a dog
The official CDC website offers more helpful tips to prevent dog-related accidents and you can read more on our blog. In case you're bitten by a dog and the wound is deep, seek medical help immediately (don't wait until the festivities are over).
We want you to safely enjoy Memorial Day weekend as much as possible. You'll know your weekend was successful if your guests left without you needing to refer back to this article. We hope our tips are helpful and we do hope you kick off grill seasons with delicious hot dogs. Let us know if you have any questions in the comment section below or feel free to contact us directly at info@lapointeins.com.