Posted by Daniel Simcock
On May 18, 2023
actual cash value, antiques, historical home, ho8 policy, older home insurance, replacement cost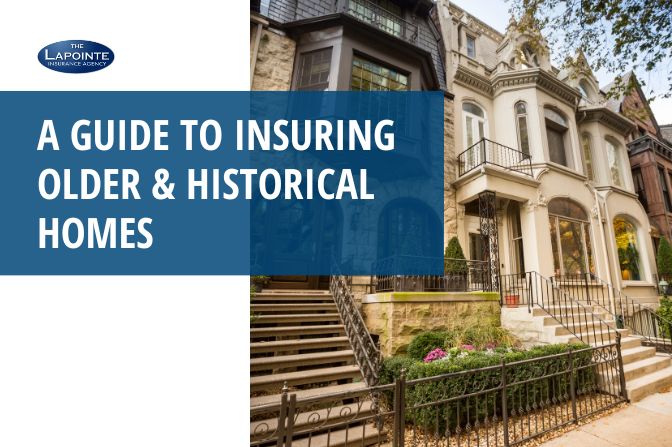 Owning an older or historical home comes with its own set of insurance considerations. In this blog post, we'll explore the key differences between insuring older and standard homes, as well as the specific challenges and coverage options for historical homes. Understanding these distinctions will help homeowners make informed decisions and secure the appropriate insurance to protect their cherished properties.
Unique Architectural Features and Materials for Older and Historical Homes
Older and historical homes often boast unique architectural features and rare materials that require specialized coverage. These elements contribute to the charm and value of the property but may be more susceptible to damage or require costly repairs. Ensuring adequate protection for these distinctive characteristics is crucial.
Replacement Cost vs. Actual Cash Value: Key Differences in Insurance Coverage
Insurance policies for older homes typically cover the replacement cost of the property, allowing homeowners to rebuild or repair their homes to their original state. However, historical homes may require additional coverage considerations due to the potential high cost of restoration and the need to source matching materials. Policies for historical homes may offer actual cash value coverage or guaranteed replacement cost coverage to ensure the property is restored to its original glory.
Protecting Valuable Artifacts and Antiques in Historical Homes
Historical homes often house priceless artifacts, antiques, and heirlooms. Insuring these valuable possessions goes beyond standard home insurance coverage. Specialized policies can be tailored to include coverage for theft, damage, or loss of these irreplaceable items, providing peace of mind to homeowners.
Compliance and Preservation Requirements for Historical Homes
Historical homes are not just residences; they are living pieces of our history. Insuring these properties may involve adhering to preservation and compliance requirements set by historical societies, local regulations, or national preservation organizations. These requirements ensure that any repairs or modifications made to the property meet the standards of historical accuracy and preservation.
Mitigating Risks Associated with Older Homes
Older homes present specific risk factors due to their age and condition. Outdated electrical wiring, plumbing issues, storm-sensitive roofs, and the presence of contaminants such as asbestos and lead paints are common concerns. Homeowners should be aware of these risks and take necessary steps to mitigate them, such as updating systems and addressing potential hazards.
Exploring Insurance Options and Essential Endorsements
Insurance options for older homes include high-value home insurance and HO-8 insurance policies. High-value home insurance is designed for homes with replacement costs of $750K or more, offering comprehensive coverage with additional benefits. HO-8 policies are tailored to protect homes that are 40+ years old, offering coverage for specific perils and often considering the actual cash value of the dwelling.
As well, there are several endorsements someone with an older or historical home should consider:
Extended replacement cost coverage
Insuring older and historical homes requires a nuanced approach that takes into account their unique features, potential risks, and preservation requirements. By understanding the differences between insuring older and newer homes, homeowners can make informed decisions when it comes to protecting their cherished properties. Seeking guidance from insurance professionals specializing in historical homes is crucial to ensuring appropriate coverage that preserves and safeguards these remarkable pieces of history for generations to come.
We hope this article was helpful. If we didn't cover a specific question, please feel free to contribute to the comments below or reach out to us directly at info@lapointeins.com.