Posted by Daniel Simcock
On April 5, 2022
airbnb, homeowners insurance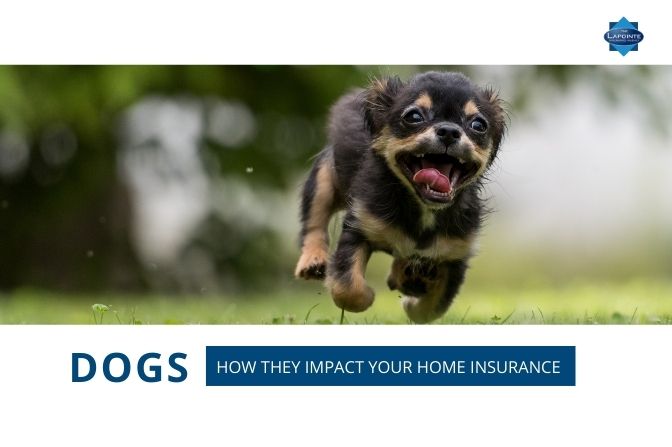 Thinking of getting a dog? Did you know that your furry friend can impact your home insurance? In this article, we'll explain why this is the case, and how your independent agent can pair you and your pooch with the perfect carrier!

What Does My Dog Have To Do With My Home Insurance?
The simple truth is that owning a dog can affect your home insurance. This all has to do with liability coverage.
As part of your home insurance, liability coverage kicks in if you are ever found responsible for accidental injury or property damage. This protection travels with you wherever you go, even beyond your property.
Having a dog can increase your chances of being held responsible for accidental injury. In 2020 alone, there was approximately 17 thousand dog bite claims. And on average, each dog bite claim costs over $50,000 to settle.
So, from an insurance perspective, owning a dog can increase your liability risk.
But, my dog is friendly. My dog won't bite anyone.
Your dog very well may be friendly. However, even if your dog doesn't bite someone, they still pose a liability risk. All someone has to do is accuse you and your dog of injury, and you could be sued and held liable for that damage. It's unfortunate to consider this possibility, but it does happen.
Does the breed of my dog affect my home insurance?
The good news is that, depending on the breed of dog you own, most insurers will not charge or charge you minimally for the liability risk.
However, carriers reserve the right to choose which liability risks they are willing to take. Because of this, certain carriers will not insure you if you own a certain dog breed.
As always, carriers' policies about dogs vary. However, here is a list of dog breeds that are commonly restricted by certain carriers.
Wolf-hybrids
Pit bulls
Rottweilers
German Shepherds
Akitas
Staffordshire Terriers
Chows
Alaskan Malamutes
Siberian Huskies
Doberman Pinschers
Great Danes
Cane Corsos
Presa Canarios
What happens if I own a dog that is restricted by my carrier?
For an independent insurance agent, that's not a huge issue at all. The luxury of working with an independent agent is that we shop with many carriers. So, if one company doesn't accept your dog breed, we have carriers that will.
I'm getting a dog. Do I need to reach out to my insurance carrier?
It's important to let your home insurance agent know as soon as possible that you have a dog. Firstly, we want to make sure that we're doing the right thing by letting the company know that you have a dog. But even more importantly, we want to make sure you are covered for any potential liability risks.
We hope we've helped you learn more about how your dog can affect your home insurance. And now we'd like to turn it over to you. Did you learn something new from this article? Or do you have a question about your insurance policy? Leave a comment below or contact us at info@lapointeins.com.