Posted by Daniel Simcock
On October 15, 2021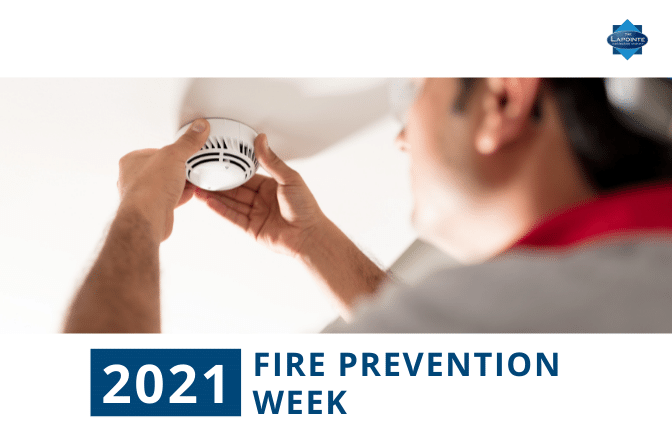 In this article, we'll take a look at Fire Prevention Week 2021 and offer some tips to better protect you and your property from fire damage.
Key Takeaways
National Fire Prevention Week 2021 explores "The Sounds of Fire Safety," highlighting the difference between smoke detectors and carbon monoxide detectors.
Homeowners should consider reviewing their insurance policies to protect their property from a covered fire loss. Replacement cost coverage will help you replace everyday items with new substitutes. Scheduled floaters will help reimburse you for the loss of valuable items.
During the week of October 9, the United States celebrates National Fire Prevention Week. Conceived of by the National Fire Prevention Association (NFIP), this week aims to raise awareness for fire safety techniques. Past fire safety prevention weeks have explored the many causes of fire and
In this article, we'll discuss 2021's theme for National Fire Prevention week, and review strategies to help prepare you for the worst, minimize property damage, and save lives.
National Fire Prevention Week 2021 – "The Sounds of Fire Safety"
The theme of 2021's National Fire Prevention Week is "The Sounds of Fire Safety." By bringing our attention to a few key sounds in your homes, you can better identify threats and take swift action to protect you and your property.
So, which device in your home emits four consecutive beeps? A carbon monoxide detector. Carbon monoxide is a colorless, tasteless gas that is a byproduct of incomplete fuel burning. Many things in our homes from chain saws to heating systems can potentially create carbon monoxide. If a carbon monoxide goes off, this means that your home may have toxic traces of this gas.
What device makes 3 prolonged beeps? A smoke detector. As its name suggests, a smoke detector goes off when it detects smoke. A smoke alarm is constructed with two electrically charged plates. When smoke disrupts the electrical charge between these two plates, an alarm goes off.
If either of these detectors go off, your priority should be to evacuate your building. As the NFIP puts it, "Hear a beep? Get on your feet!" Staying indoors to collect your belongings can be deadly. It can take all of 30 seconds for a manageable fire to get out of hand. can increase your risk of injury or death. The NFIP recommends that you create, review, and practice an evacuation plan for common situations you may encounter.
What does a single chirp every 30 to 60 seconds mean? This means that the batteries in your devices need to be replaced. If the problem persists even after replacing your batteries, you should purchase new devices. Every 10 years, these devices need to be replaced entirely.
Fast Facts about Home Fires
What are the most common causes of house fires?
Cooking – 49%
Heating equipment – 14% (mostly chimney fires, but space heaters as well)
Electrical fires – 10%
Smoking materials – 5%
Candles – 3%
During what months do most house fires occur? From November to March, you are at a higher risk of a house fire. Nearly 50% of all house fires occur during these months. Also, 56% of deaths caused by fire occur.
During what time of day do most house fires occur? 5 pm to 8 pm is when most house fires occur. This is the time of day when people come home from work, make dinner, and turn on their heating equipment.
Did you know there's an interesting historical link between house fires and property insurance? The first property insurance companies were created in the aftermath of the Great London Fire of 1666! Before property insurance, you were responsible for rebuilding your home or tenement when it burned down. Essentially, you were "self-insured." In isolation, this was a frustrating reality. But when 13,000 people in London were dealing with this issue at once, it became a bigger problem that needed a solution.
Protecting Your Property in Case of a Fire
It's important for you to take early action to mitigate the damage of fire. One solution we recommend is reviewing your home insurance policy. Here are a couple coverages you may consider discussing with your insurance agent.
Replacement Cost on Contents
In the event of a covered loss (like a fire), replacement cost on contents ensures that you'll be able to replace your personal property with brand new items. This is different from actual cash value coverage, which would only give you the depreciated or "blue book" value for your contents. To learn more about replacement cost coverage and actual cash value coverage, click here.
Scheduled Property Floaters
For valuable items, you may consider adding them to your insurance policy separately. Learn more about scheduled property floaters here.
We hope we've helped you better understand National Fire Safety Week 2021 and some important steps you can take to protect you and your property from fire. And now we'd like to turn it over to you. Did you learn something new from this article? Or do have a question about your homeowners policy? Leave a comment below or contact us at info@lapointeins.com.