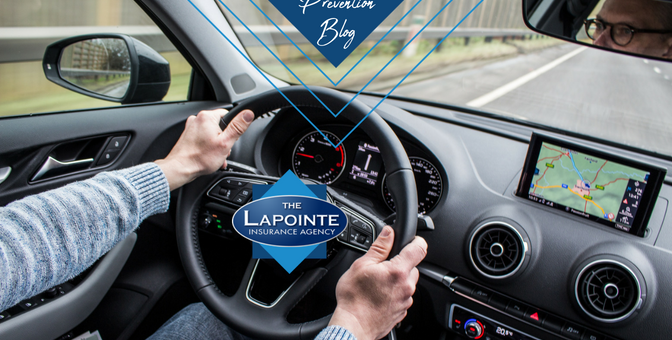 Posted by Lapointe Insurance
On August 10, 2018
It is no secret that texting while driving has been on the steady rise within the past few years, and with state laws cracking down harder than ever it is critical that you make the pledge to go hands-free while operating a motor vehicle.  Here is what you need to know; most importantly to ensure the safety of yourself and all others on the road, and also to avoid a dreaded surcharge on your auto policy.
Distracted driving however, goes beyond texting.  According to the CDC there are three main types of distracted driving:
Visual: taking your eyes off the road
Manual: taking your hands off of the wheel
Cognitive: taking your mind of driving
Texting, or using your handheld device in any way while driving is extremely dangerous because it involves all three types of distractions.  It is no surprise that the risk of a crash is exponentially greater when a driver is using a cellphone in any way.
Here are 10 helpful tips for avoided distractions while driving, provided by Mass.gov:
Power Off- Turn your phone off completely or switch it to silent mode before starting your vehicle up, and put the phone in a place where it cannot be accessed while driving.
Spread the Word- Create a special message to alert your family and friends that you are on the road and you will respond to them as soon as it is safe to do so. There are some carriers that offer this type of service.
Pull Over- If you must make a phone call, pull over off the road to somewhere that is safe for you and the other drivers on the road.
Use Your Passengers- Ask a passenger to communicate and manipulate the phone for you so that can focus on the road.
X the Text- Do not respond to a text message while driving. It can wait! The same goes for checking social media pages, searching the web, etc.
Know Your State Laws- Get familiar with both state and local laws, know your risk.
Prepare Yourself- Start your GPS or answer any text, email, or notification before you begin driving. If you need help while driving ask a passenger, rely on your vehicle's hands-free features, or pull over to review your map or directions.
Keep your Children Safe- Pull over to a safe location to address any situations with your children in the backseat.
Secure your Pets- Pets can be a major distraction while driving, always be sure they are properly secured before you begin driving.
Focus on the Task at Hand- Refrain from eating and drinking, smoking, reading, and all other activities that will cause distraction while operating your vehicle.
According to the Massachusetts' Safe Driving Law, the law bans sending, typing, or reading electronic messages to or from a handheld device while operating a motor vehicle. This includes use of the internet and text messaging. A texting while driving ticket will cost you $100 for the first violation, $250 for a second, and $500 for a third (along with a lingering license surcharge that will cause your insurance premium to spike). The law differs for junior operators of course, having more harsh consequences like a six month license revocation.
Meanwhile, Rhode Island's new hands-free law just went into effect. For your first texting and driving violation you will receive a $100 fine and/or a thirty day license suspension. The second offense carries a maximum $150 fine and or a license suspension of up to three months. Drivers are required to use completely hands-free devices while operating their vehicle.
How do we keep ourselves, our children, and others on the road safe and avoid legal turmoil? The answer is quite clear, JUST DRIVE.